The workshop allows intensive exchange through a series of lectures and seminars addressing different aspects of Arctic research. The multidisciplinary approach of this meeting facilitates networking between participating scientists and partner institutions and the development of new collaborations. The goal of this workshop is to develop new multidisciplinary projects on the topic of climate research in regard to the sustainable use of the Arctic area.
This year, the EDU-ARCTIC project Consortium representatives participated in its fourth edition in Potsdam, Germany, presenting the project and showing how it fits to the idea of including the Arctic and polar research into youth's education.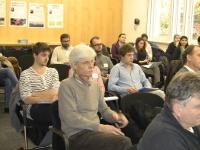 The event was held on 16-18 November and hosted by several institutions: Alfred Wegener Institute for Polar and Marine Research, Franco-German University, University of Versailles-Saint-Quentin-en-Yvelines and French Polar Institute Paul-Émile Victor.
It was a great opportunity not only to present and promote the EDU-ARCTIC project, but also to explore issues related to Arctic region from diverse perspectives.
The EDU-ARCTIC workshop evoked great interest and received good feedback for its uncommon, interactive form, including online quiz and video showing.
Moreover, taking advantage of the opportunity to gather many Arctic-focused, remarkable people from different countries and fields of science, we managed to record several short videos with their participation. Soon you will be able to see them on our youtube channel!
Foto: Franziska Kuhlmann/Agata Godzik