Latest News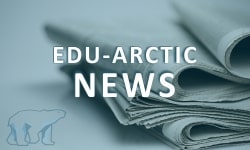 To deal with the complex impact of climate change in the Far North and elsewhere, we need increasing numbers of professionals to cope with this challenge efficient...
22 May 2019
Teams from Belgium, Slovenia, Greece and Spain won the Arctic Competition dealing with subjects of the earth's rotation, UV-radiation, heavy metal and Nano plastics. The prize is a place on an Arctic Expedition to Northern Norway or the Faroe Islands.
6 May 2019
The publication THE EDU-ARCTIC PROJECT: INTERACTING FOR STEM ACROSS COUNTRIES AND CURRICULA was presented during a conference session at the 13th INTED conference "Exploring new frontiers in education" in Valencia, Spain.
2 May 2019